WHAT ARE FLEXX SLATE 
FLEXIBLE STONE VENEERS?
Have you ever dreamed with entering your home or office
and find yourself immersed in a natural environment? 
Well, with Flexx Slate® you can experience that feeling!
FLEXX SLATE® flexible stone veneers are a new, natural (not imitation, "faux", or artificial), ultra-thin stone material, incorporating all of the unique colors and textures found in every layer of the foliated metamorphic rocks.
Unlike the traditional slabs, our stone is lightweight and flexible, allowing for its use in many applications. That includes vertical and horizontal surfaces not previously considered for stone due to weight or flaking issues.
Flexx Slate® lets you create a real stone wall for much less than the price of traditional stone, spending about 75% less in time, labor, transportation, and storage costs. 
Flexx Slate® Classic Panels are made up of a thin layer of genuine slate or quartzite stone laminated to a fiberglass and polymer composite substrate that will concede great flexibility and strength, making it suitable for curved shapes. Standard dimensions for Flexx Slate® panels are 2'x4' and 2-3mm thick (that is 0.08-0.11 inches, or 3/32″-1/8″). Some varieties are available at 4'x8′ (that is a big piece of stone!). You can also order smaller pieces by requesting our custom cutting service. Its weight ranges from 0.27 lbs/ft2 to 0.33 lbs/ft2. Minimal differences (±1-2mm or 1/32″-3/32″) in length, width, as well as in the right angles of the sheets are normal.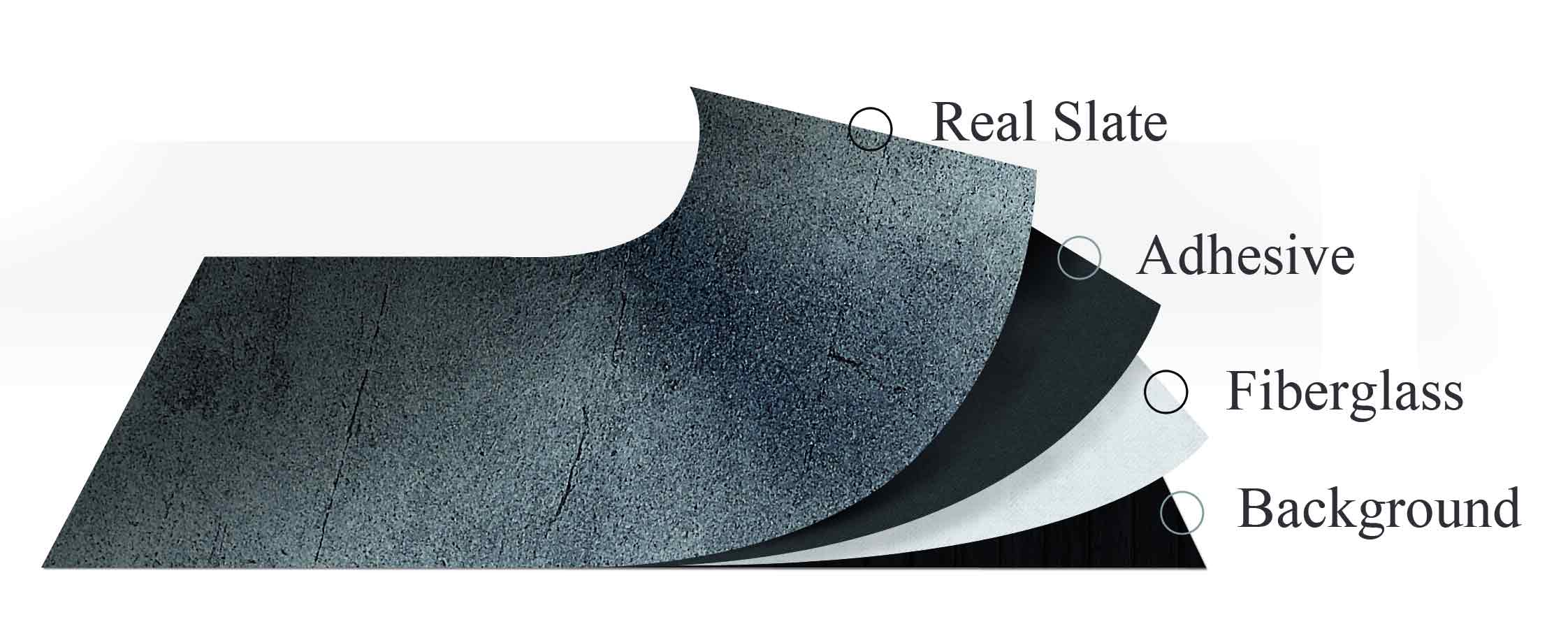 Flexx Slate® Classic Panels present a wide variety of textures and colors you can choose from, both for new construction and remodeling projects. Each sheet is one of a kind as no two stone slabs are exactly the same.
HOW CAN I USE FLEXX SLATE?
Flexx Slate® Panels are perfect for flat or curved wall applications, ceiling, kitchen backsplash, cabinets doors and countertops, bathrooms, showers, furniture, doors, millwork, lighting (see translucent stone panels), column cladding and many other interior and exterior, residential or commercial applications (visit our photo gallery).
And, the most important, you can install our flexible stone veneers over any kind of substrate (using the proper adhesive): concrete, brick, wood, fair-face masonry, natural or artificial stone, tiling, glass, metals, polyester, acrylic resin and most thermoplastics.
When remodeling kitchen and baths, with Flexx Slate® Panels it is easy to install over the existing tiles. That means you don't have to remove the old tiles while remodeling, no dust, and no demolition materials to haul away.
Flexx Slate® Panels can be used for flooring and countertop applications as well, whenever a proper sealer is applied or in conjunction with sheet glass.
Due to its high resistance to erosion and thermal stability, Flexx Slate® is apt for both indoor and outdoor uses.
ADVANTAGES OF FLEXX SLATE
EASY-ALL
Because Flexx Slate® Panels are so thin and lightweight, everything is surprisingly easy. They are easy to handle, easy to carry, easy to transport, easy to cut (just use metal hand shears), easy to install. You can really DO IT YOURSELF!
EXTRA STRENGTH
As they are reinforced with fiberglass and polyester resin, FLEXX SLATE® Panels are harder and stronger than regular slate tiles. They won't break easily if dropped or knocked.
FAST
You can enjoy your new design right away with Flexx Slate® Panels, as they need much less time for cutting, handling, applying and curing than traditional or even the artificial slate. Fast layout with large sheets (2'x4′ or even 4'x8′ for some variations) saves on installation labor.
WEATHER RESISTANT
The stone surface of the Flexx Slate® Panel, like most stone elements, acts as a UV inhibitor and will resist high sun conditions for years. When adhered to a substrate, it will handle thermal contraction and/or expansion like most standard construction materials (1.0 mm maximum per panel, through temperature range). It will withstand both high temperatures and freezing without cracking (-20 to 176 degrees F). Heat transfer through the panel is negligible. Depending on usage, natural stone requires different surface protection coatings like glossy, matte, environment protective, anti-static, fire retardant coatings, water sealers, adhesives for indoors or outdoors uses, and caulking/epoxy color grout.
FLEXIBLE
Flexx Slate® Panels can be bent in the same manner as plastic laminate products. The fiberglass-polymer composite strand used in manufacturing the flexible stone veneer gives it strength and flexibility. Flexx Slate® Panels can be bent inward, or arched outward, depending on the desired need. It can be bent or flexed to a radius of 18" along the 48" length. With the assist of heat smaller radii can be achieved. The 24" width will also have a slight flex, but it is not recommended for bending. Due to the nature of the different thickness of the individual sheet, the degree of radius varies per item. We recommend testing the flex of the considered item prior to final installation.
EARTH FRIENDLY
CLEAN. Due to its high density, Flexx Slate® Panels produce almost no waste. 
SUSTAINABLE. Flexx Slate® is also a sustainable product, by utilizing only what is needed from the stone quarry. Because of the unique manufacturing process, each sheet of Flexx Slate® represents just a very thin layer of the natural stone block. 
ENERGY SAVING. Transportation costs, fuel and space are saved in manufacturing, shipping and handling compared to standard stone or tile products because of Flexx Slate's lightweight and thin nature, especially when compared to standard stone or tile products.
ASSISTANCE
We are ready to back you up! We'll be glad to share our extended expertise with you and provide proper assistance when planning and accomplishing your projects with Flexx Slate® natural stone panels.
COMPARE TO 3/8 SLATE TILES: